what it would be like sometimes if we hadn't found each other what we would be like where we would be. I honestly think that I would probably be alone more miserable than ever-sad, I know, but I think it would be true.
When Josh and I started dating I was just starting to get some confidence back from my last completely destructive relationship with my ex fiance, I'd had enough and I was gone and never looking back. I did just that Josh and I were a love at first sight kind of deal-even though we were both to scared to admit it.
After being together only a short time-about a month I was watching the news and saw that my ex fiance had been murdered. It was such a shocker and I had a million different feelings. At first I really wasn't sure what to think, so I didn't I just called and talked to Josh and told my parents. As the days past I realized that if things hadn't changed if I was still with him, I would have been there-he was robbed and the guy that robbed- him, his 2 brothers and his cousin got a total of $7 off of all of them together.
His family had a service for him, I didn't go, I didn't feel like I needed to, though we were engaged and were together for
a long time, I was never close with his family, or really any of his friends. My friends tried to get me to go, I felt so guilty for not wanting to, in my mind that part of my life was over it was done and I had no desire to re-visit it, so I didn't......
About a month after all of this my love, my fiance at this point was going to deploy to Iraq didn't know exactly when or for how long-it was def one of the scariest times in my life-I thought great, awesome, wonderful I found the love of my life and he's leaving and may not come back and there is nothing I can do. We got through it, got married over R&R after being a part for 10 months-that made it interesting for sure. About 4 months later my husband, Josh came home on his birthday from Iraq-talk about a great birthday present! We got to spend our first Holidays together(we starting dating in July and he deployed in September)...it was definitely an adjustment though since we had never lived together or really been together that long
.
It's all worked out great though :)
Here are some pictures throughout our journey together so far :)
*At the Zoo before Josh deployed August 2007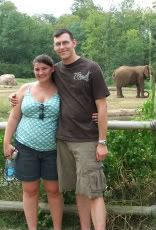 *September 2007 in Gatlinburg-our first trip together-about 2 weeks before he deployed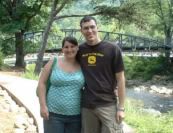 *July 24th-Our wedding Day
*Our "honeymoon" in TX seeing Josh's family -this one is from Port Aransas Beach
*November 13th-Josh's bday and also his homecoming from Iraq :)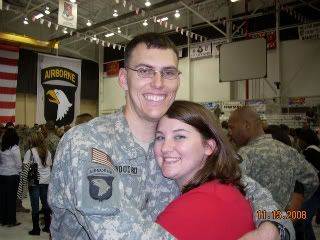 *Christmas @ Opryland-if you've never been you gotta go its so gorgeous :)
*Christmas @ the Cumberland in Clarksville,TN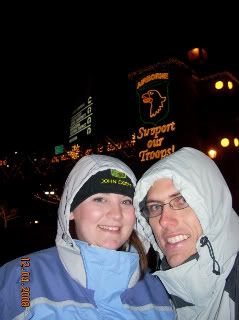 *